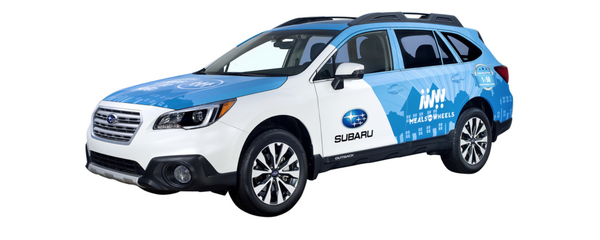 As part of its 50th anniversary events, Subaru of America is donating 50 vehicles to Meals on Wheels America.
The 2018 Subaru Outback vehicles will be donated to select Meals on Wheels programs throughout the country this fall. The vehicles will be used in the delivery of 53,000 meals to an additional 3,700 seniors across 39 states.
Subaru has supported Meals on Wheels for nine years through Share the Love, contributing more than $12 million to Meals on Wheels America and providing more than 1.7 million nutritious meals, visits and safety checks to seniors in communities nationwide.
Subaru announced the donation to its 630 member retailer body at the company's National Business Conference in Denver. This was particularly appropriate as Subaru retailers participate in the company's annual Share the Love Event and donate to causes in their local community.
Each 2018 Subaru Outback donated will be delivered to local retailers and wrapped with Meals on Wheels America and 'Subaru Loves to Help' co-branding.