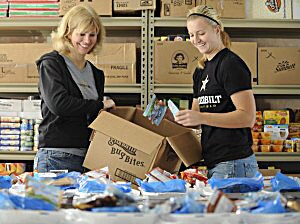 Marion Subaru is so thankful to have worked with Gum Drop Kids this past year. And we're very proud to have them as our local charity during this year's Share the Love Sales Event. Here is a brief profile of Gum Drop Kids:
Gum Drops,
a non-profit charity which was started by Amy Simpson in Carterville, Illinois, provides a weekend backpack of child-friendly food to help enhance the quality of life for at-risk children throughout Southern Illinois. This program removes barriers to academic success for these at-risk children. It is very likely that these at-risk children will endure lifelong consequences as a result of having limited or no food. These children suffer significantly in health issues, behavioral difficulties as well as academic performance. Gum Drops plays a crucial role in the lives of these at-risk children by breaking down barriers caused by hunger.
Gum Drops began in January 2008 feeding 12 at-risk children. Currently, the organization feeds over 1,300 at-risk children every week of the school year. Gum Drops is in six counties, 14 different school districts, and 37 schools throughout Southern Illinois.
Volunteers are needed each week to help pack backpacks, and donations of food or funds are also welcome. Backpacks are packed every Tuesday and Wednesday evenings beginning at 6:30pm and Tuesday mornings at 10:00am at the Gum Drops Packing Station, which is located 1005 Briarwood in Carterville, across from Cannon Park's walking path.

To learn more, visit them online at http://gumdropkidsnfp.org/