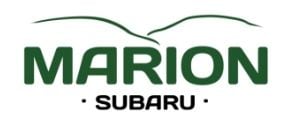 Hours
Monday

8:00 AM - 6:00 PM

Tuesday

8:00 AM - 6:00 PM

Wednesday

8:00 AM - 6:00 PM

Thursday

8:00 AM - 6:00 PM

Friday

8:00 AM - 6:00 PM

Saturday

8:00 AM - 4:00 PM

Sunday

Closed
Make an Inquiry

Marion Subaru Car Repair & Service.  Marion Subaru Auto Service Center.
Marion Subaru has a state-of-the-art service center with the latest tools and technologies to repair your vehicle.  To schedule Subaru car repair in Marion,

call Marion Subaru at 888-859-0945

.  Whether you need a

oil change

express lube service

, tires, brakes,

an

alignment, batteries, tune up

or major

Subaru repair

, you can trust the quality of service you'll receive at Marion Subaru.
Every vehicle in our service center receives a

multi-point inspection

with every visit to make sure your vehicle has a clean bill of health.  Check our website regularly for
special service offers and service coupons
.
Genuine Subaru Batteries, for Supreme Confidence & Performance
When it's time to replace the battery in your Subaru, use a
genuine Subaru replacement battery
.  They're manufactured to the exact specifications required by your Subaru vehicle.  Subaru original-equipment batteries are covered by the Subaru New Car
Limited Warranty for three years/36,000 miles
. Subaru replacement batteries come with an
85-month limited warranty
when installed by an authorized Subaru dealer, and a
30-month/unlimited-mileage free replacement with free towing
to the nearest Subaru dealer if the vehicle is inoperable due to battery defect.

All Subaru vehicles are equipped with maintenance-free batteries.  The term "maintenance-free" can be deceptive.  These batteries require some attention to maintain their cleanliness and efficiency.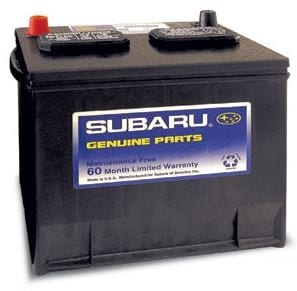 The battery is the heart of the electrical system and the main cause of winter weather start-up woes.
Cold weather effects:
Batteries lose about half their strength
Increased demands on batteries
Reduced engine-cranking power
Thickened engine oil, which makes engine turnover difficult
Cold fuel, which doesn't vaporize well
Reduced battery recharging efficiency
It is extremely important to have your car's battery checked regularly by a Subaru-trained technician. Technicians look for:
Loose or corroded connections that can dramatically diminish your car's starting power
Loose (or crusty) connections that can shut off your car's electrical flow entirely (imitating a dead battery)
Winter driving frequently requires the use of lights, defrosters, and wipers for extended periods. This requires the charging system to work properly so it functions adequately. For this reason, your service technician should check your battery's charging system and voltage regulator and inspect your alternator to ensure components are operating properly.